Suffolk County Council Archaeological Service work with volunteers to promote, protect and conserve the archaeology in Suffolk.
Volunteer - Photography and Film for the Rendlesham Revealed project
We are looking for volunteers with great photography and/or videography skills to help capture a record of the archaeological fieldwork. This role involves being on-site at the fieldwork photographing and filming volunteers working on-site, the archaeology and the artefacts.
To start with, your main objective will be to photograph and film the activity on-site at the archaeological excavations, once or twice per week between 9th August and 18th September 2022. There will be scope to volunteer at other fieldwork activities later in the year, and possibly at local community events as needed.
This opportunity will provide you with the chance to gain valuable experience and develop new skills.
Responsibilities:
Capture images for use in the archive record, publications, in the media and on our website/social media.
Photograph staff, volunteers and supporters working on-site during the fieldwork, as well as archaeological features and close ups of the artefacts
Work to a brief
Process and supply photos taken on a weekly basis.
Process and edit film footage into a short video, working to a brief with the Rendlesham Revealed team
Previous experience as a photographer, as a hobby or as a professional, is essential. You will need good communication skills as you may need to encourage people for photographs. A great understanding of our project would be beneficial to the role.
You must have a vehicle, driving licence and insurance, as you will need to travel to and from the fieldwork sites.
To apply or if you have any questions contact Alice De Leo by email at alice.deleo@suffolk.gov.uk
For an informal chat about the role, contact Alice De Leo 07732603947
Unfortunately, we do not have a field team and so cannot routinely provide fieldwork opportunities. Try contacting your local commercial archaeological contract unit or local archaeological society who do conduct fieldwork more regularly.
Occasionally, we are involved with community archaeology projects; we will advertise these here as and when opportunities become available.
Current community archaeology projects:
Rendlesham Revealed: Anglo-Saxon Life in South-East Suffolk.
Brecks, Fen Edge and Rivers Landscape Partnership.
Fieldwork opportunities for these projects usually take place in the summer and autumn and will be advertised as and when they arise.
Sign up to our e-newsletter to express an interest and be kept up-to-date on our projects and volunteering opportunities.
---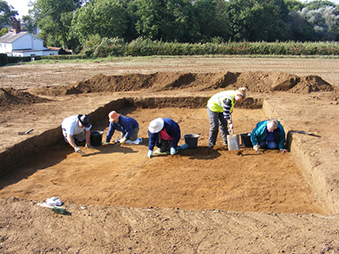 Join Local Societies and Groups
become immersed in the world of archaeology and history
Discover More »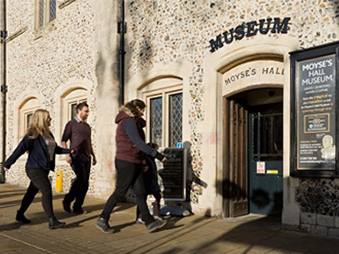 Visit Local Heritage Attractions
start your journey to learn more about your local heritage
Discover More »